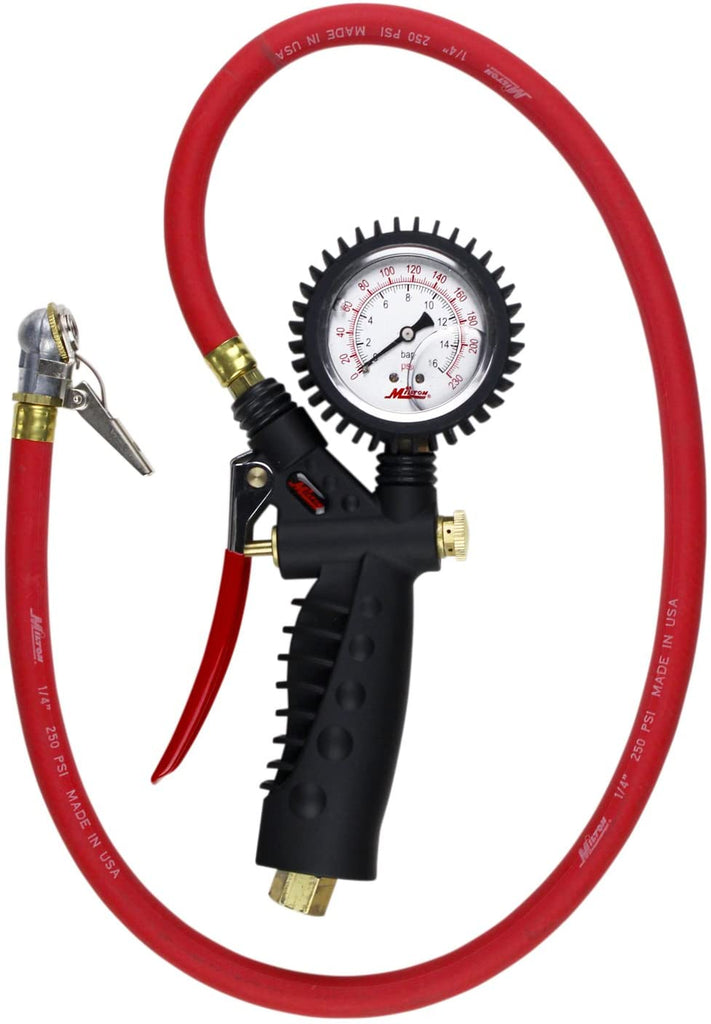 Milton Industries
Milton 573A Pro Analog Pistol Grip Inflator Gauge - 36" Hose and Ball Chuck w/Clip - 160 PSI
---
No need to worry about batteries with this analog inflator gauge, filled with liquid (silicone oil) that provides optimal accuracy, pressure spike prevention, and a cushioned tick to optimize the lifespan of the mechanical parts inside the gauge. This also has a deflate button for when you overshoot the pressure. It comes with a foot hose and Lock-On Air Chuck with Clip for quick attachment. The dial gauge is fitted with a rubber boot which protects it from corrosion, impacts, and shocks.

INCLUDES:

- Analog inflator gauge with rugged comfort-grip handle, shock-resistant protective rubber boot, deflate button, 36" hose, and ball air chuck.

PRODUCT SPECIFICATIONS:

Gauge:

- Resolution: 2 PSI
- Diameter: 2.75"
- Units of measure: PSI (0-160), Bar (0-11)
- Liquid filled: silicone based oil

Handle: reinforced coated nylon
Trigger: plated steel with PVC grip
Fittings and deflate button: solid brass
Product dimensions (w/o hose): 9.9 x 4.6 x 1.6 (L x W x H)
Hose: 1/4" ID x 36" EPDM rubber w/ brass fittings
Operating temperature: -4 to +158 degrees F (-20 to +70 C)
Air inlet: 1/4" NPT female (Milton 727 plug sold separately)

CONSTRUCTION:

- No need to worry about batteries with this durable analog inflator gauge!
- Protective rubber boot to shield against impacts.
- Comfort molded nylon handle with coating is incredibly durable and ergonomic.
- Steel inflator trigger with separate brass deflation button for quick fine tuning in case you go past your target pressure.
- Solid brass fittings throughout provide long-lasting performance, with 1/4" NPT female air inlet (Milton 727 plug is recommended).

DRIVE SAFELY:
Maintaining proper tire pressures improves vehicle handling, reduces risk of tire failure, improves fuel economy, and increases the life of your tires.

Assembled in USA
Warranty: 1 year.
ACCURATE: Liquid gauge measures in PSI (0-230) and Bar (0-16). Meets ANSI/ASME B40.1 standards.
WHY LIQUID? Absorbs vibration/pressure spikes, reduces wear, and is better in corrosive environments
EASY HANDLING: Durable/ergonomic grip. Quick fine tuning in case you exceed the target pressure.
LOCK-ON BALL CHUCK: Full swivel/long hose prevents crouching/backache when inflating/deflating tires
SOLID BRASS FITTINGS: Long-lasting performance, 1/4" NPT (F) air inlet. Milton 727 plug recommended.
---
Share this Product