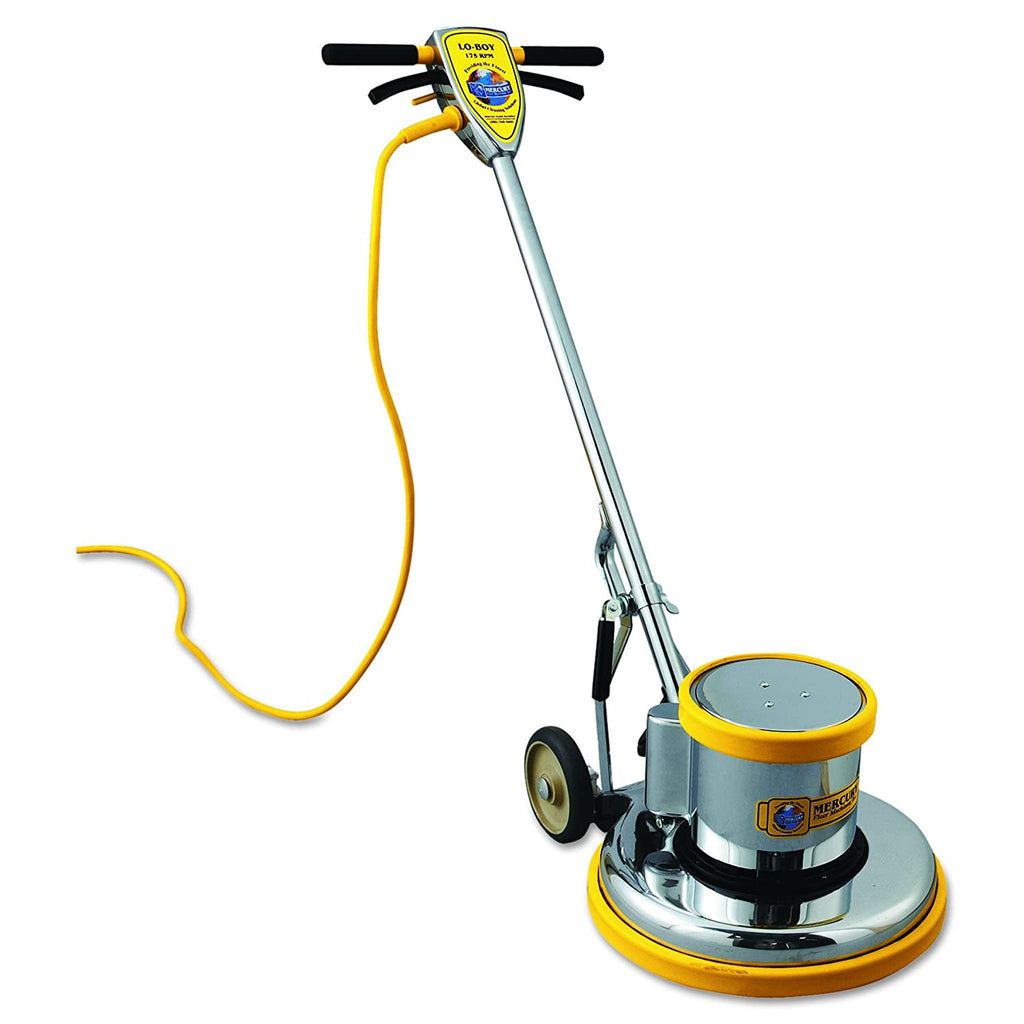 MERCURY
Mercury L-17E Lo-Boy Floor Machine, 17" Apron, 1.5 HP Motor, 175 RPM Brush Speed
---
Ultra quiet machine with hospital quiet operation and machine gearbox located under the apron. The Lo-Boy has a 1.5 HP, 66-frame A/C motor with 175 RPM operation. Rugged all-metal construction. Order brushes and pad drivers separately.
Specifications
| | |
| --- | --- |
| Machine size | 17" |
| Rotary brush size | 15" |
| Rotary pad driver size (with riser) | 16" |
| Motor type | 1.5 hp AC, 2 Capacitors, 15 Amp Draw |
| Brush speed | 175 RPM |
| Weight | 106 lb. |
| Cord length | 50' |
Brushes, pads, and pad drivers are sold separately.
Floor machines use an electric motor to rotate a brush or pad against a floor to strip wax, scrub dirt, apply finish, polish, or buff a floor surface. Brushes and pad holders (also called pad drivers) are mounted to a clutch plate on the bottom of the machine, with different kinds of brushes and pads for different applications. When used with appropriate brushes or pads, floor machines can be used for cleaning wood, vinyl, tile, and other hard floors and for dry-cleaning and loosening dirt from carpeted floors. Some floor machines use an oscillating motion in addition to rotation, to enable brushes to reach more angles of rough floors or grout lines, and to reduce swirl patterns in floor finish. Floor machines for residential and commercial use have a handle for manual control and wheels for transport between work sites.
Mercury Floor Machines manufactures floor and carpet care equipment such as floor machines, burnishers, and vacuums. The company, founded in 1959, is headquartered in Englewood, NJ.
---
Share this Product
---
More from this collection