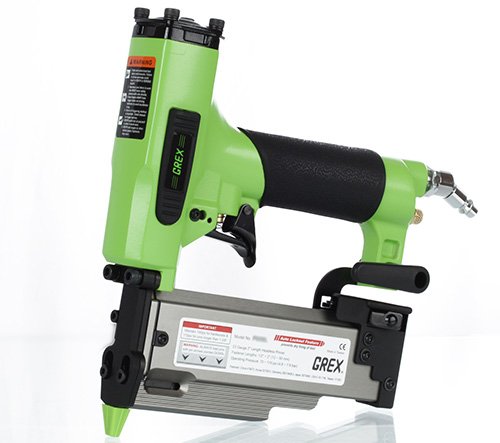 Grex
Grex P650L 23-Gauge 2-Inch Headless Pinner with Lock-Out
---
Grex P650L 23-Gauge 2-Inch Headless Pinner with Lock-Out
Lock-out mechanism that prevents dry-firing of tool

Shoots fasteners up to 2-inch length easily, even in hardwoods

Patented magazine design eliminates need to adjust for different fastener lengths

Powerful motor penetrates fasteners through the hardest materials

Narrow nose reaches tight areas and corners for detailed trim work

Grex continues to push the limit of its popular line of headless pinners with the 2 fastening capability from their new P650L. Now drive even longer fasteners with the same great features youd expect from a Grex Headless Pinner.Suggested Applications:Light wood assembly, Finish and trim work, Molding and decorative trim, Dowel and joint pinning, Mirror and picture frame assembly, Lightweight paneling, External softwood trim, Rattan furniture, Glazing strips, Craft work, Window beading, Display and sign work.- Compact, lightweight, slim profile design for maximum maneuverability- Powerful motor to drive fasteners through hardwoods- Patented design eliminates need to adjust for different fastener lengths- Drive fasteners up to 2, accepts 13 lengths from 1/2 to 2- Auto lock-out feature prevents dry-firing of tool.- Lock-out over-ride button allows last several pins to be driven- Double trigger safety lock prevents accidental firing of tool- Removable nose cover provides easy access to clear jams- Narrow nose design reaches corners and tight areas for detail work- No-mar rubber tip prevents marring of work surface- 4-point alignment guide accurately locates position to drive pins- Fastener indicator window shows when reloading is necessary- Convenient drop-in loading for quick and easy fastener re-loading- Convenient belt hook for easy carrying of tool- Rear exhaust with silencer reduces exhaust sounds- Rubber hand grip for a firm comfortable grip on tool Dimensions 7.75L x 8.75H

From the Manufacturer

The Grex P650L 23-gauge 2-Inch length headless pinner features grex's patented self-adjusting magazine design that accommodates fasteners from 1/2-Inch up to 2-Inch, a total of 12 different lengths. An added feature is the built in lock-out mechanism that prevents dry firing of the tool when only several pins are remaining, ensuring a pin is driven every time. If necessary, a manual over-ride button of the lock-out mechanism allows the last few pins remaining in the magazine to be driven. Equipped with an extended narrow nose to access corners and tight areas with precision, this lightweight pinner is designed ideally for intricate finishing and trim work that allows secure fastening of the smallest decorative trim with a nearly invisible hole – no splitting or puttying.
---
Share this Product
---
More from this collection